Several species that rely on Bay habitat may be enjoying a bit of a boost, thanks to this spring's below-average to average water temperatures, occasional freshwater flow thanks to rainstorms, and—in some areas—slightly higher-than-average salinities at the end of May.
Scientists use data from CBIBS buoys, NOAA satellites, and other sources to monitor conditions in the Chesapeake Bay, and to analyze how they may differ from average. When conditions are different than average, it can affect species that live in the Bay, in both positive and negative ways. 
Overall, in spring 2022 (March-May 2022), the Bay saw:
Mostly average water temperatures, with some geographical nuances

Variable salinities, with some time below average in the northern part of the Bay and above average in the southern part

Overall below-average freshwater flow but with several distinct peaks
​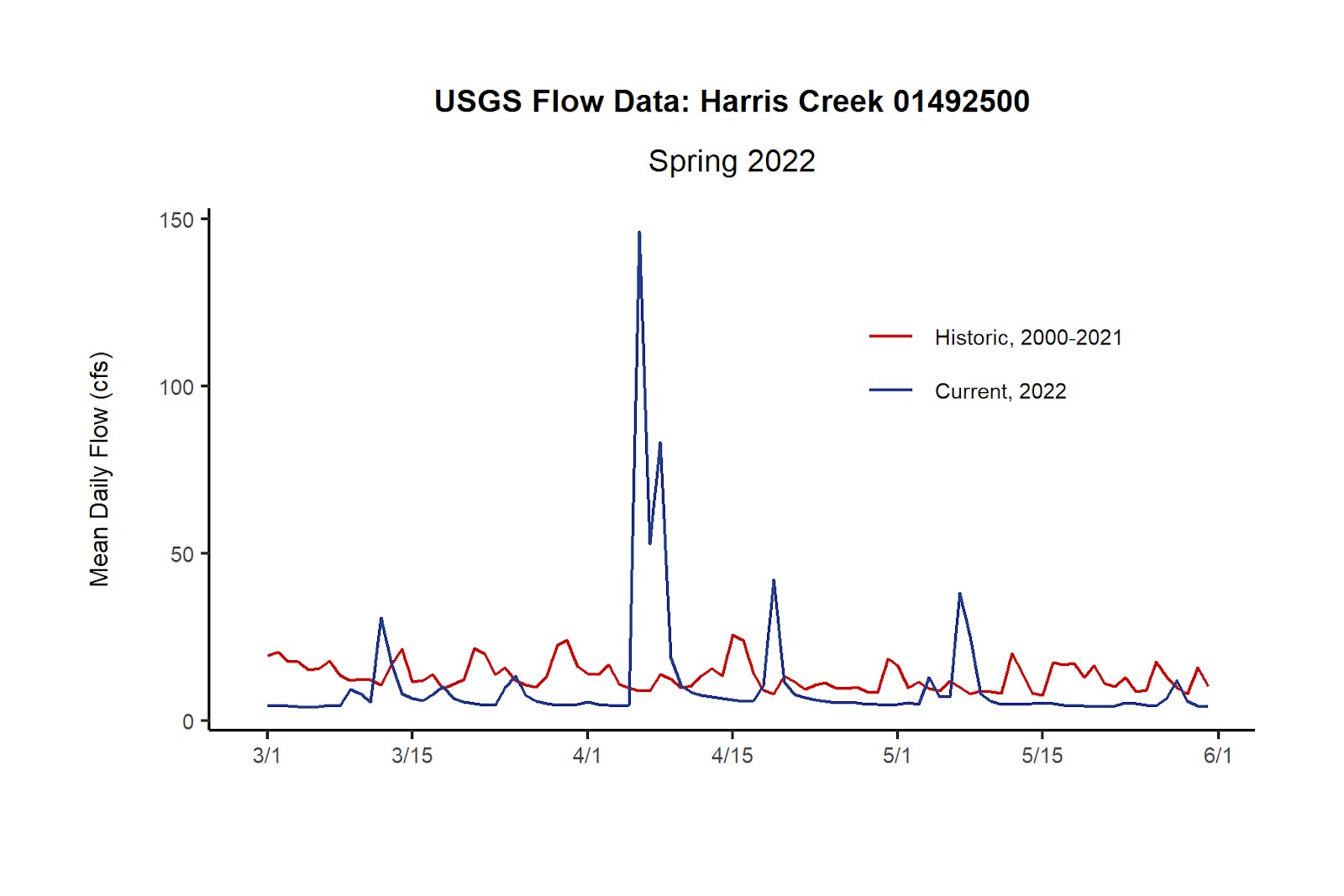 This graph shows mean daily streamflow (discharge, cubic feet/second) at the USGS monitoring site in Harris Creek, Maryland, throughout spring 2022 relative to the daily averages over this seasonal period from 2000 to 2021. While below average for much of the spring, several strong peaks brought fresh water into the system.
The overall below-average to average water temperatures may have helped the striped bass population out at a key time—springtime, when striped bass larvae need lots of food to help them survive and thrive. The cooler water temperatures can help extend the time period when copepod prey are available, providing the newest generation of striped bass the food they need. In addition, cooler temperatures mean good spawning habitat for striped bass, so lots of larvae!
Water temperature isn't the only factor that affects the success of the striped bass population. Freshwater flow—as shown in the graph—can affect the population as well. This flow helps flush zooplankton prey downstream to where the striped bass larvae are. If there is not enough flow, it's harder for the larvae to encounter this food. 
Salinity varied around the Bay, with northern areas experiencing lower-than-average salinity and southern areas seeing higher-than-average salinity for the first half of the spring. Salinity is a primary driver for oyster reproduction and juvenile survival. The higher salinities in late May—when oysters generally start reproducing—may help with reproduction and growth. 
For more information on spring 2022 conditions and how they may have affected living resources in the Chesapeake Bay, see the full scientific seasonal summary.